Toys and Gift Ideas for Children Who Are Blind or Visually Impaired
We have pulled together a number of suggestions for parents of children who are blind or visually impaired who are looking for fun, accessible games and toys as well as gifts and gadgets for your teenagers!
But the best advice we can offer is to just try it. Toys don't have to serve a developmental purpose! It's fun to buy something just because your child will like it.
Oh, and one final word of hard-earned advice from blogger Emily Coleman: "Be sure to take those toys out of the packaging before you wrap them! Isn't it better to have the final result of all that unwrapping be a toy and not a package? It can take quite a while to get toys out of the packaging these days, so I don't want him waiting while I find the essentials to access the toy (i.e. scissors, screwdriver, jackhammer)."
Gift Ideas for Children Who Are Blind or Visually Impaired
Books and Magazines in Accessible Formats
Gift Ideas for Teenagers, Young Adults, and College Students Who Are Blind or Visually Impaired
Gift Ideas for Parents and Teachers
Recommended Resources from FamilyConnect
Other Gift Guides to Explore
Gift Ideas for Children Who Are Blind or Visually Impaired
| | |
| --- | --- |
| | Light Stax are illuminated construction blocks that use LED technology but are still 100 percent compatible with existing traditional building blocks. Using their patented system, each Stax will magically light up as it is connected to a power base or any lit Stax. No special connectors or wires are needed. A great choice for children with cortical visual impairment. |
| | The Bop It! is a perennial favorite that's available from most major retailers. The Bop It! calls out commands that come faster and faster as the game goes on. When you hear a command, you need to "bop it, pull it, or twist it to stay in the game." |
| | National Braille Press's 2018 Peanuts™ "Happiness Is" Calendar is 12x12 inches (hanging on the wall it's 12 inches wide and 24 inches tall). The braille is included on clear plastic labels that go right over the print pages. And as always, the calendar features a special bonus—a sheet of 120 full-color stickers to mark birthdays, appointments, and other important days. |
| | Wikki Stix: Fun Activity Set for the Littlest Kids—They can be twisted, stuck on surfaces, shaped into animals, geometric shapes, letters, and numbers, and then untwisted and used over and over again. This set comes with 84 vividly colored stix, a two-sided reusable playboard and an eight-page story booklet with creative ideas. |
| | This cute and colorful Dinosaur Grasping Toy is great for developing fine motor skills. Wooden segments connected with elastic bungee can be positioned in multiple poses. |
| | Braille Code Clothing—Created by the mother of a legally blind child, this clothing line represents independence, self-confidence, and pride. |
| | Dominoes with Raised Dots |
| | Beeping Foam Soccer Ball: These safe-to-use foam balls are located by following their high-pitched beeping. They operate on an internal rechargeable battery that works for 12 hours on one eight-hour charge. MaxiAids also carries a variety of beeping and audible balls, making family or sibling games of catch, basketball, soccer, or football accessible. |
| | Brailled Go Fish Cards: Brailled characters and bright bold colors make this old favorite enjoyable for all. |
| | Nine-piece Shapes and Sounds Puzzle: Lift each shape to reveal a common object of the same shape. The puzzle says the name of the shape aloud when the pieces are placed correctly. |
| | Tactile Chess and Checker Board Set: The white sections are lower than the black to provide tactile differentiation and to form a pocket for the checkers to sit in. Holes in each square allow the pegs in the chess pieces to be inserted. Red and black checkers are shaped differently as are the black and white chess pieces. |
| | Do-A-Dot Braille and Raised Line Art is an entertaining art project book for children with low vision who are learning braille. |
| | Polyblox Totems are wooden rectangles meant for stacking and spelling, revealing print, braille, sign language, numbers, pictures, and shapes. |
| | Wonderworld Rainbow Sound Blocks are stackable, hollow blocks containing different types of beads which create distinctive noises when shaken. |
| | Consider stacking cups, peg boards, and age-appropriate lacing beads such as this Melissa & Doug Primary Lacing Set to encourage fine motor skills through play. |
| | Kinetic Play Sand for when you want buckets full of messy, sensory fun for the whole family. |
| | Your children can have active fun indoors or outdoors with a mini trampoline or inflatable bounce house such as this Jump Castle Inflatable Bouncer. |
Books and Magazines in Accessible Formats
| | |
| --- | --- |
| National Braille Press offers a children's print/braille book of the month club—an annual subscription means that you will automatically receive 12 monthly print/braille books. | |
| Baking Illustrated: Chapter 8 - Cookies and Brownies: The good folks at America's Test Kitchen have painstakingly tested every recipe they could find in order to discover the perfect, most fool-proof recipe for, say, the best sugar cookies, peanut butter cookies, and of course, chocolate chip cookies. And if you've tried other chapters from this book, you know that this is much more than a simple recipe list—it's more of a baking encyclopedia. | |
| Latke, the Lucky Dog: On the first night of Hanukkah, a family rescues a golden-brown dog from the animal shelter and names it Latke in honor of the beginning of the holiday. Each night, he gets in a bit of trouble—eating a platter of sufganiyot (fried donuts), tearing open presents, chewing up candles—and each night the family gets a little angry, and then forgives him. A new pet is a growing experience for both the family and the pup, but this charming book focuses on Latke's gratitude for being taken in ("I am one lucky dog!") and forgiven. A brief description of the holiday is included. Ages 4 and up. | |
| Totally Silly Jokes, by Alison Grambs: What's guaranteed to make you giggle and guffaw, curl up in a ball, and split your sides? These jokes will because they're the silliest, zaniest, wackiest, and most groan-inducing you've ever heard! Available in braille or e-braille formats. | |
| Scholastic News® Subscriptions from American Printing House for the Blind (APH): APH offers accessible editions of Scholastic News at a cost comparable to regular print subscriptions, and Federal Quota funds may be used! To place your order, visit shop.aph.org. | |
| Seedlings offers gift certificates for overwhelmed grandparents or anyone who wants to share their love of reading. Check out what's new on Seedlings. | |
Gift Ideas for Teenagers, Young Adults, and College Students Who Are Blind or Visually Impaired
| | |
| --- | --- |
| | Apple products: AccessWorld notes that "all Apple products, including iPods, iPhones, and MacBooks, have VoiceOver, an integrated screen reader that reads aloud whatever text is on the screen. VoiceOver makes it possible for people without vision to operate a device without sighted assistance." If you're in the market for a relatively inexpensive electronic gift, consider the iPod Shuffle for under $50. For someone with a higher budget, the iPad or iPod Touch cost several hundred dollars. If you don't want to buy a device, another option is an iTunes gift card, and then you can point your teenager to AFB's list of accessible mobile apps. |
| | L'Occitane is a great source of multi-sensory gifts like lotions, fragrances, and candles. In 2000, L'Occitane received an Access Award from the American Foundation for the Blind for its efforts to make its products accessible to people who are blind and visually impaired through braille labeling on its packaging. |
| | The Chicago Lighthouse store offers an Atomic Talking Clock and Calendar as well as many other accessible clock options for harried students trying to stay on schedule! |
| | Braille "Love" Pendant—Jewelry designer Kelly Fehr from 'Jewelry in Braille' creates jewelry for her braille-reading niece, Emily, with braille in every design! This is a 1.25 inch by .25 inch piece of pure dark copper with the word "love" on it and a small raised heart at the bottom. The pendant is strung on a 16-inch waxed cotton cord with a lobster clasp. |
| | Stocking stuffer alert: the Pocket Money Brailler comes on a keychain and allows you to mark one, five, ten, 20, 50, and one 100 dollar bills—just place bills between the two plastic brailled strips and press together. |
| | Look for Starbucks' "The Beauty of Braille" gift card—Created in honor of National Disability Awareness Month, this card features the Starbucks logo displayed in braille, a simple way to improve the Starbucks experience. |
Gift Ideas for Parents and Teachers
| | |
| --- | --- |
| AFB now offers fun mugs, tote bags, t-shirts, and even jewelry embossed with Helen Keller quotes. | |
| You can send a free accessible, large print eCard featuring a Helen Keller quotation to a friend or loved one. | |
| InBraille™ greeting cards from the Chicago Lighthouse celebrate the beauty of braille for those who can see, and those who cannot. Each cover features a unique, contemporary design reflecting the pattern of dots in the card's embossed braille message. | |
| Print/braille holiday cards from National Braille Press send a simple message of love and peace. Wish your colleagues, friends, and family peace and goodwill with these unique print/braille holiday cards. The front has the word "peace" in dark blue and in braille as an elegant dove—olive branch in its beak—glides above. Inside reads: "Peace on earth and goodwill toward all." | |
| Hadley's Braille Holiday Card features a watercolor and mixed-media collage depicting a quiet winter landscape of colorful, vintage-patterned paper trees as tactile snowflakes fall from the sky. Each snowflake and a solitary tree are embossed. As a special touch, hidden in the snowflakes along the top of the card, the word "peace" is spelled out in braille. | |
Recommended Resources from FamilyConnect
Other Gift Guides to Explore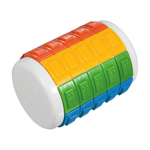 Looking for Help?
Featured Book
JVIB Special Issue on Critical Issues in Visual Impairment & Blindness
JVIB Special Issue on Critical Issues in Visual Impairment & Blindness